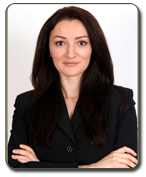 Malina Chereji
Ask Nagel LLC, A Full Service Realty Company
Cell: 773.517.5148 (Text Friendly)
E-Fax: 312.224.3188
Email: malina@asknagel.com
Malina Chereji is a dedicated Real Estate Professional and co-founder of the Ask Nagel Realty Team, that is focused on truly servicing its clients and helping them achieve their goals.
Malina's #1 rule of purchasing real estate: Only Buy It If You Love It!
Rule #2-10: See rule #1.
Malina is not looking for a quick sale but rather wants to build a long term trust relationship. She is willing to do the work to make her clients "raving fans" of her business, and knows that's about delivering great results. People who have worked with Malina recognize the benefit of dealing with someone knowledgeable, reliable and dedicated, but most of all who puts their best interests first.
Malina understands how exciting, fun, frustrating, and even intimidating the buying process can be, and how important it is to have a trusted advisor. Perhaps, she has a deeper appreciation of this issue, given her buying experience coming from another country. Therefore, she takes great care in understanding her clients' needs, educating them on their options to get great results.
In order to be highly responsive and accessible, Malina is always plugged in and actually answers her phone. Hard work, tenacity, and a very assertive negotiation style compliment her soft customer touch.
Malina established residence in Chicago seven years ago, moving from Romania where she was born and raised. She is multilingual, speaking fluent Spanish, French, English along with her native Romanian.
Due to her pleasant and highly respectful personality, she has always been considered great with people which allowed her to build a career with the Four Seasons Hotel.
Malina has a true passion for real estate coming from her understanding of the importance of home, and the value of helping of people.
Malina is an avid reader and is the proud Mama of Bran, a German shepherd that she taught to climbs ladders.