by: Greg Nagel
Ask Nagel Realty
[Featured Photo: Winchester Street's perfect tree canopy at night.]
East Village Borders & Overview
East Village's borders are Grand to the south, Division to the north, Milwaukee to the east, Damen to the west. And, although it lies just to the east of Ukrainian Village and indeed, the name is short for East Ukrainian Village, East Village has an identity of its own. An eclectic mix of vintage and modern, East Village's tree-lined streets and vibrant shopping and dining corridors create the perfect backdrop for urban life, close to downtown but bucolic enough to almost seem suburban in certain areas.
While the official border stops at Chicago Avenue on the south, we're extending this to Grand for the purposes of this article. The area between Chicago and Grand shares many of the same characteristics and is often lumped in with the somewhat nebulous "West Town" label.
West Town Micro-Neighborhood Map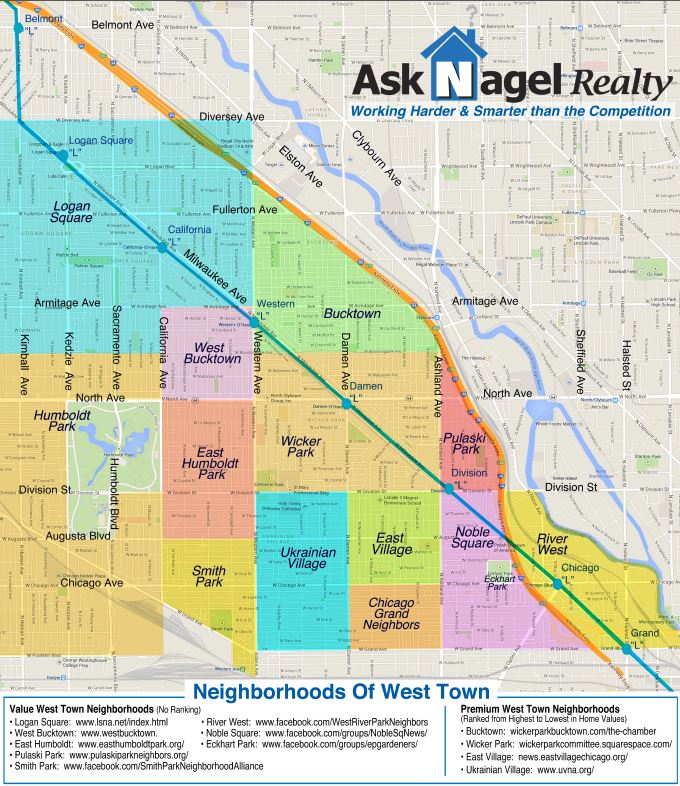 The Ukrainian influence is less pronounced in East Village, with most of the churches and cultural institutions located west of Damen in Ukrainian Village proper. The primary shopping districts are Chicago Avenue, recently named as the most vibrant dining destination in the city, and Division Street (once known as the Polish Downtown), whose wide sidewalks offer the perfect backdrop for outdoor dining in the summer. And those wide sidewalks and general pedestrian experience are no accident. Local residents worked to ensure that Division retained its charm by actively designating the strip between Leavitt and Marshfield a pedestrian zone. This designation prohibits curb cuts, effectively eliminating drive-through restaurants and parking lots, while ensuring that businesses maintain street-level open windows, making for an inviting place to shop and dine. When I was president of the East Village Association, we extended that designation east to Milwaukee.
For buyers searching for single-family homes, East Village can be a relative bargain, although its recent popularity has limited this somewhat.
Shit Fountain
If you've wandered through East Village, you may have noticed this curious sculpture, located on Wolcott just north of Augusta. The fountain features a brass pile of dog excrement on a pedestal, with the words "SHIT FOUNTAIN" proudly displayed on the side. The brainchild of Polish-American sculptor Jerzy Kenar, who lives and works in the building behind the fountain, the sculpture is a monument to the many dogs of East Village, as well as a reminder to dog owners to pick up after their pooches.
East Village Home Inventory
With R3 zoning predominating, East Village offers many single-family homes, with a mix of classic bungalows and worker's cottages. Three-flats are also well represented, both vintage and more modern, due to a wave of demolitions in the 90s. In addition, some of the old factory and warehouse buildings in the neighborhood have been converted into loft condos.
Much of the neighborhood is also protected by landmark designations, although less than Ukrainian Village to the west. Interior remodels with original facades are now significantly more common, although the area south of Chicago is less protected and more populated by new-builds.
LaSalle II Magnet Elementary School is a selective K-8th Grade elementary magnet school with a program focused on world languages. Admissions preference is given first to students with a sibling attending the school, and then 40% of the remaining seats are allocated to students who live within a 1.5 mile radius of the school via lottery, with the remining seats selected via Tier lottery.
Ola's: Grab a brew, scratch a couple of lottery tickets and pick up a six-pack to go at this quintessential Chicago dive bar nestled on Damen Avenue.
Beatnik: Formerly a discount clothing store, Bon Homme Hospitality transformed this space into one of the most beautiful restaurants in Chicago. A large atrium brings in natural light, while candles and antiques whisk diners away to a fantasy world. Stop in for one of their creative drinks or stay for a shared-plate dinner.
Bangers & Lace: An extensive beer selection is matched by an equally extensive sausage menu at this casual bar on Division, and the outdoor area is great in the summertime.
Funkenhausen: While a German/Southern cuisine fusion doesn't seem like the most obvious match-up, Chef Mark Steuer makes it work at this trendy beer hall.
Machine: Inside or outside on their lush sidewalk patio, Machine offers the perfect backdrop for a date.  Unique and gorgeous drinks are augmented by an in-house florist for a great evening.
Milk and Honey: A longstanding Division Street staple offering great brunch and lunch options. Grab a coffee and pastry or sample one of the best breakfast sandwiches in Chicago, as well as their famous in-house oatmeal. I'm also a huge fan of their crab cake sandwich!
Chicago Truborn: One of the first of a wave of galleries on Chicago Avenue, Chicago Truborn offers surprisingly affordable underground and street art. Watch their Facebook page for their legendary art openings! Even their building is an art exhibit – the full-building mural by Dutch artist Eelco is worth the trip!
Penelope's: Men and women can both find hip fashions at this long-term Division street staple. The owners recently doubled-up on their commitment to Division Street, opening Gemini immediately across the alley from the original location.
Paperish Mess: A great place to pick up cards, art or find the perfect gift for that hard-to-buy-for friend. Paperish Mess focuses on local artists and artisans.
Epic Spices: This hidden gem, concealed behind an original vintage menswear façade, can be tough to find, but the affordable spices and knowledgeable staff make it worth the effort.
East Village Organizations
East Village businesses and residents are both well-served by established organizations representing their interests. For businesses, the West Town Chamber of Commerce offers services and champions their interests. Residents are served by two different organizations.  The East Village Association serves those in East Village proper – between Damen and Milwaukee and Division and Chicago, while the Chicago Grand Neighbors Association serves those living between Chicago and Grand and Ashland and Damen.
East Village Transportation
It's a little tough for me to be objective here, since I bought my four-flat on the 1000-block of Winchester back in 1993 and opened up Ask Nagel Realty at 1919 W. Division in 2013, but East Village's vibe is laid-back yet trendy, with a tight neighborhood feel. Its easy accessibility to downtown makes it an ideal spot for people who want all of the amenities of the city, yet like living in a place where they know their neighbors. If you're interested in learning more about East Village or are looking to sell there, you should definitely contact Ask Nagel/ Neighborhood expertise matters, and you won't find anyone with more expertise in this neighborhood.
Greg Nagel
Greg Nagel is the Managing Broker/Owner of Ask Nagel Realty and a Top 1% producer of all Chicago brokers. He has been featured on two episodes of HGTV's number one show, House Hunters. Check out the 200+ five-star reviews of Greg's work from his clients on Zillow.
---