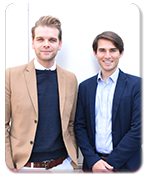 Ask Nagel LLC, A Full Service Realty Company
Ryan Williams Cell: 312.927.3626
Brennan Williams Cell: 225.571.9191
E-Fax: 312.224.3188
Email: ryanandbrennan@asknagel.com
Ryan and Brennan's knowledge of Chicago and hard-working commitment to the industry makes them a perfect choice when buying, selling and renting in Chicago. Ryan and Brennan have lived and worked in a range of neighborhoods in Chicago, ranging from Lakeview to Lincoln Park, Gold Coast to finally settling in Wicker Park. This has allowed them to become familiar with the ever changing market and put them at the fore-front of it. Being a married team themselves enables them to seamlessly work with each other and clients, putting their clients a step ahead of the rest enabling them to work harder and smarter as a combined team. Being a professional and personal team, their service and response time will not be able to be matched by sole brokers.
Ryan, a British native, has a background in international education working in many top private schools around the world. He has worked with a range of family's and applies this dynamic knowledge and experience when working with his clients. He has a wealth of knowledge when it comes to the schooling system in Chicago, working for one of the top private institutes in the city for many years.
Brennan comes from a strong finance background who grew up with a passion for architecture, design and real estate. He completed an economics degree in 2014 with a focus on international trade and finance. With their combined passion and knowledge makes them a perfect team to work with you as you undergo the complex process of buying, selling and renting.
This team is committed to keeping ahead of the trend and they have immersed themselves in a range of groups and committees throughout the city. Their wealth of knowledge of the city allows them to provide their clients with the most up to date information on developments, city zoning and laws, the best areas to buy for school districts or even the coolest areas to rent.
Ryan and Brennan's goal is to make the real estate process, whether buying or selling, as natural and personable as possible. They are committed to their clients and work to meet their needs through negotiating, marketing and 100% commitment to their client's criteria. This they believe makes them stand out above most average brokers.