by: Greg Nagel
Ask Nagel Realty
[Featured photo:  The gold dome at Saints Volodymyr & Olha Ukrainian Catholic Church is a neighborhood landmark.]
Ukrainian Village Borders & Overview
The borders of Ukrainian Village are roughly Grand to the south, Division to the north, Damen to the east, Western to the west.
As the name implies, Ukrainian Village proudly proclaims its Ukrainian heritage, through the many churches, schools, restaurants and cultural institutions still serving the Ukrainian community. Ukrainian Village was the first neighborhood in the city to be officially recognized, when Mayor Jane Byrne issued a proclamation in 1983.
West Town Micro-Neighborhood Map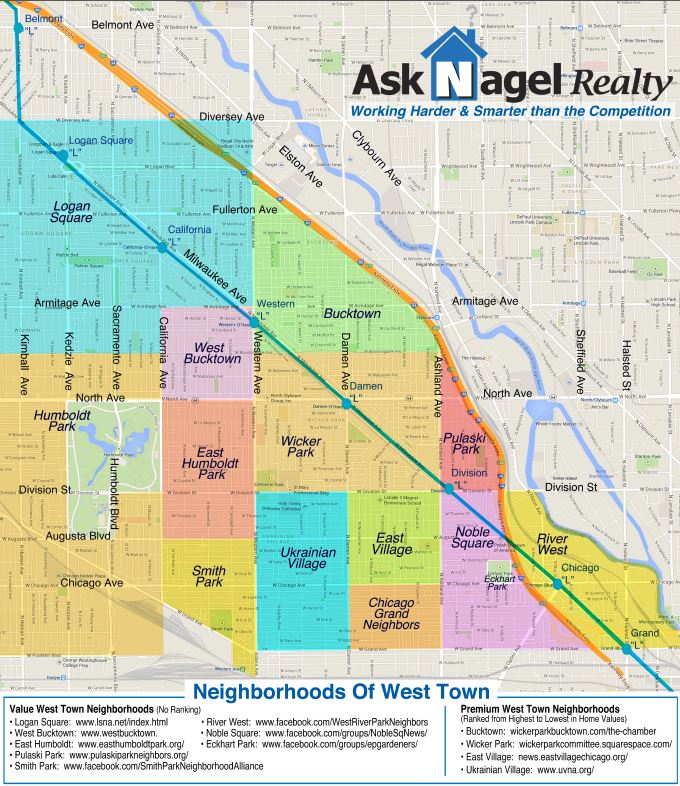 Although the neighborhood officially ends on the south side at Chicago Avenue, we're extending to Grand for the purposes of this article. The area between Chicago and Grand lies in the somewhat nebulous "West Town" but retains much of the same character as Ukrainian Village proper.
While the concentration of Ukrainian residents may have thinned, the neighborhood retains the working-class housing stock and neighborhood feel it has always had. Three-flats and single family homes reside side-by-side, with much of the classic architecture protected by landmark designations. The many Ukrainian churches are a visual highlight, including the Louis Sullivan-designed Holy Trinity Orthodox Church on Leavitt Street. And with institutions like the Ukrainian Institute of Modern Art and the Ukrainian National Museum in the neighborhood, the Ukrainian influence is still strong.
The main shopping districts in Ukrainian Village lie on Division Street and Chicago Avenue. Division is most notable for its wide sidewalks, offering the perfect location for stellar outdoor dining in the warmer months. Chicago Avenue is a bit more low-key, with restaurants, shops, galleries and residential buildings side-by-side.
For buyers searching for single-family homes, Ukrainian Village can be a relative bargain, although its recent popularity has limited this somewhat. One reason for its relative value is its lack of proximity to the El, although it is well-served by numerous bus lines.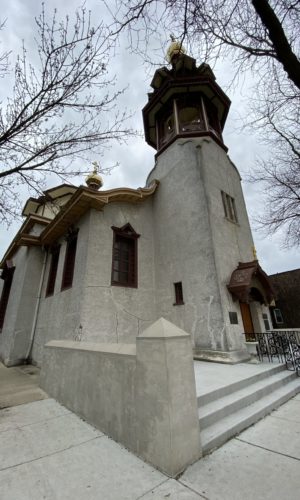 Ukrainian Village Housing Stock
With R3 zoning predominating, Ukrainian Village offers many single family homes, with a mix of classic bungalows and worker's cottages. Three-flats are also well represented, both vintage and more modern, due to a wave of demolitions in the 90s. In addition, some of the old factory and warehouse buildings in the neighborhood have been converted into loft condos.
After neighbors pressed the city, much of the neighborhood was eventually protected from demolition, in order to better protect its character. Interior remodels with original facades are now significantly more common, although the area south of Chicago is less protected and more populated by new-builds.
Ukrainian Village Schools
Mitchell Elementary School: Known as a true up-and-comer, Mitchell is now one of the best elementary schools in Chicago Public Schools.
Pre-K and K-8
Serves 400 students
Ranked as a Level 1+ School
It boasts a lower student to teacher ratio than most schools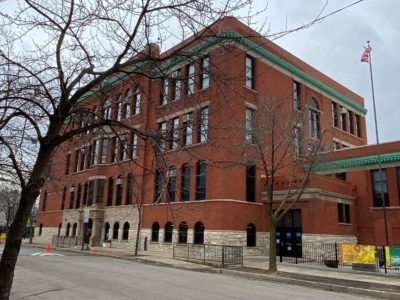 Kasia's Deli: A neighborhood staple since 1982, Kasia's is most famous for their pierogi, but offer a full array of Polish specialties.
Tryzub: Sample modern Ukrainian fare at this festive Eastern European restaurant. With live music on the weekends and a walk-up coffee and pastry window, Tryzub offers an authentic and fun experience.
Tuman's: Formerly Tuman's Alcohol Abuse Center, a notorious dive bar, Tuman's rebranded a few years back as Tuman's Tap and stepped up their food and beverage game. Their burger is a must-try!
Mr. Brown's Lounge: Sample authentic Jamaican food at this casual spot.  Fantastic jerk chicken wings and mac-and-cheese pair well with a tropical rum drink!
Empty Bottle/Bite Cafe: Catch some live music at one of the early pioneering businesses in Ukrainian Village.
Boeufhaus: Steaks that match any of the bigger-name downtown steak houses are just the start at this chic newcomer. Grab a martini and be sure to sample their charcuterie options.
Ukrainian Village Shopping
Vertical Gallery: Street art can be much more than a tag on an abandoned building. Find affordable pieces from some of Chicago's (and the world's) finest urban artists at this Ukrainian Village gem.
Tarnish: Whether you own a motorcycle or just want to look like you do, you can embrace your inner Hell's Angel at this moto-themed boutique.
Ukrainian Village Organizations
Ukrainian Village businesses and residents are both well-served by established organizations representing their interests. For businesses, the West Town Chamber of Commerce offers services and champions their interests. Residents are served by two different organizations.  The Ukrainian Village Neighborhood Association serves those in Ukrainian Village Proper – generally between Damen and Western and Division and Chicago, while the West Town Neighbors Association was recently formed for those living between Chicago and Grand and Damen and Western.
Ukrainian Village Transportation
Thanks to some early intervention from the city's Historic Preservation department, Ukrainian Village retains much of the same feel it had 100 years ago. Single-family homes and vintage three-flats live side by side on the tree-lined streets, and dive bars and trendy restaurants co-exist on the commercial strips. While it's not the value neighborhood it once was, deals can still be found, and Ask Nagel can help you find them. That's the value of a local expert – give us a call.
Greg Nagel
Greg Nagel is the Managing Broker/Owner of Ask Nagel Realty and a Top 1% producer of all Chicago brokers. He has been featured on two episodes of HGTV's number one show, House Hunters. Check out the 200+ five-star reviews of Greg's work from his clients on Zillow.
---