by: Greg Nagel
Ask Nagel Realty
[Featured photo:  Tennis courts are just one of the amenities found in the green expanse of Smith Park.]
Smith Park Borders & Overview
The borders of Smith Park are Grand to the south, Augusta to the north, Western to the east, California to the west. Named for the eponymous park that lies on the south side of the neighborhood, Smith Park occupies that rare space where hip and homey meet. Tree-lined streets hold many single-family homes, both vintage and modern, while some of the hottest restaurants and shops have popped up on the commercial corridors of the neighborhood.
The park itself is a perfect community hub, with tennis courts, an outdoor swimming pool, a playground, and a large fieldhouse all there for residents' recreational needs. At all times of the year, you'll invariably run into some of your neighbors enjoying the green space and open vistas.
West Town Micro-Neighborhood Map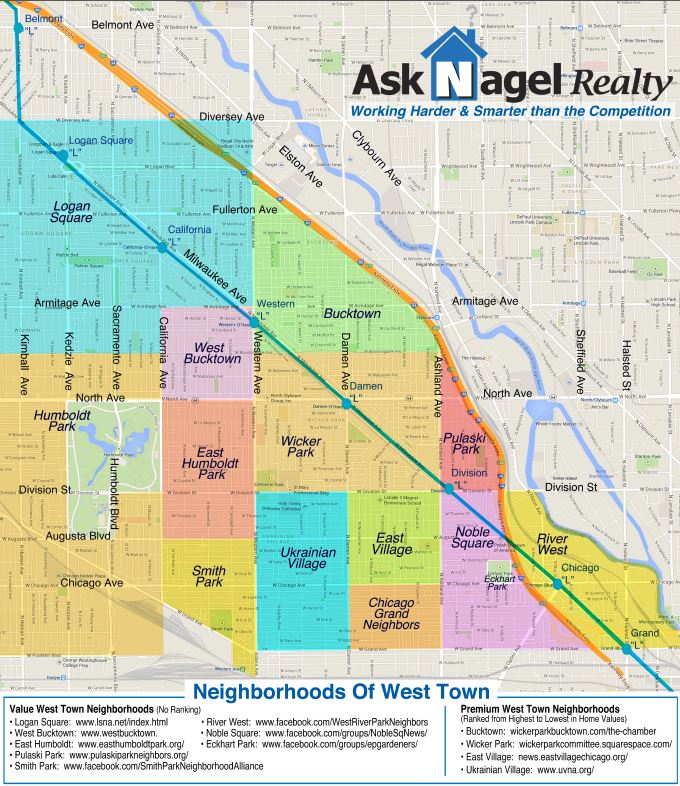 At the southeast corner of the park lies one of the neighborhood landmarks – a World War II tank. A fixture in the neighborhood since the 1950s, the tank was moved from the corner of Grand and Western to its current location in the park in the 1980s. It was a gift from a local American Legion hall and serves as a tribute to the men and women of our armed forces.
The main commercial corridors of Smith Park lie on Chicago Avenue and California Avenue, particularly around Augusta. Chicago Avenue in particular is known for its phenomenal restaurant scene, and Smith Park represents the west end of what Crain's Chicago Business recently named as the best stretch for dining in the entire city. Recent years have also seen the California/Augusta intersection explode with new restaurants and shops.
For buyers searching for a single-family home who may be priced out of Ukrainian Village or Wicker Park, Smith Park can be a great alternative. While located west of Western – a boundary many buyers hesitate to cross – it offers many of the same amenities as those neighborhoods, yet its relatively undiscovered status has kept prices comparatively low.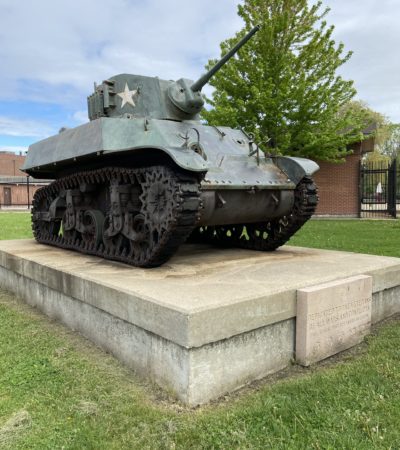 Smith Park is primarily composed of single-family homes, with a number of three-flat condo buildings and rentals.  Particularly on the streets directly surrounding the park itself, the lots and homes are significantly larger, with a good mix of vintage and modern architecture.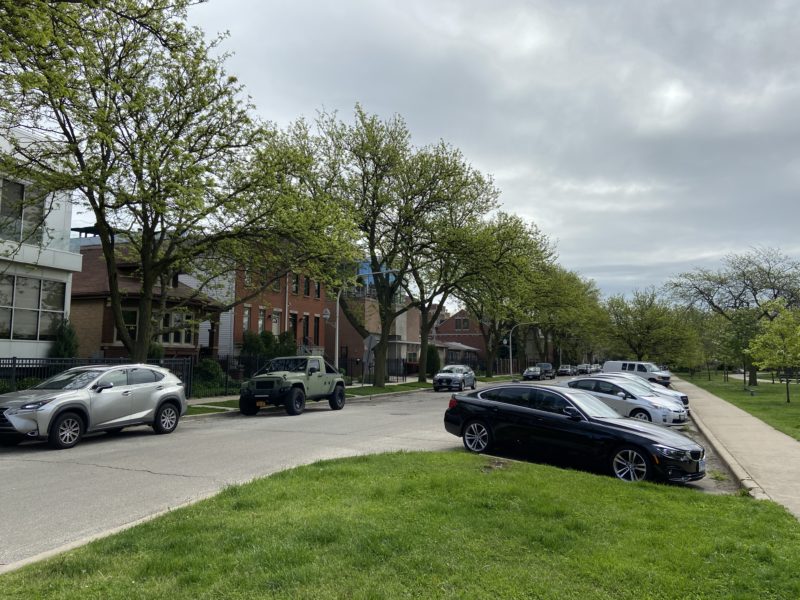 Ukrainian Village Schools
Mitchell Elementary School: Known as a true up-and-comer, Mitchell is now one of the best elementary schools in Chicago Public Schools.
Pre-K and K-8
Serves 400 students
Ranked as a Level 1+ School
It boasts a lower student to teacher ratio than most schools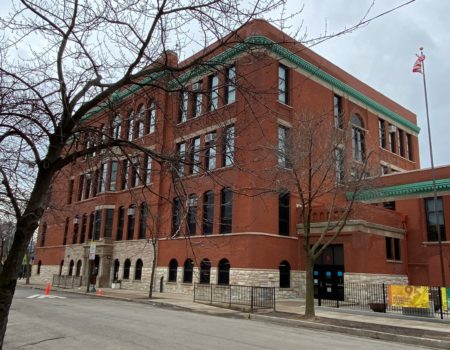 Split-Rail: Chef Zoe Schor specializes in fried chicken at this casual-but-chic spot on Chicago Avenue. Be sure to check out Dorothy, the new speakeasy bar in the basement!
Kai Zan: Some of the best sushi in the city can be found at this unassuming spot. Order a la carte from the menu or go for the full omakase experience and let the expert chefs create an unforgettable meal.
Heritage: While it may not seem like the most logical location for a caviar bar, Heritage makes fish eggs approachable and delicious, accompanied by a unique menu of modern globally influenced entrees.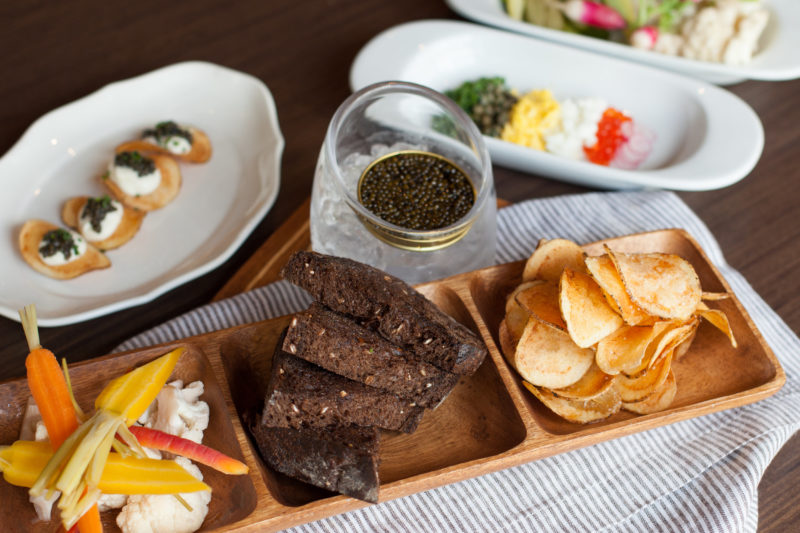 Star Lounge and Dark Matter Coffee: Ignore the huge chain stores and get your caffeine fix at this local roaster, either at their Star Lounge on Chicago Ave or at "The Mothership" at their roaster on Western Avenue.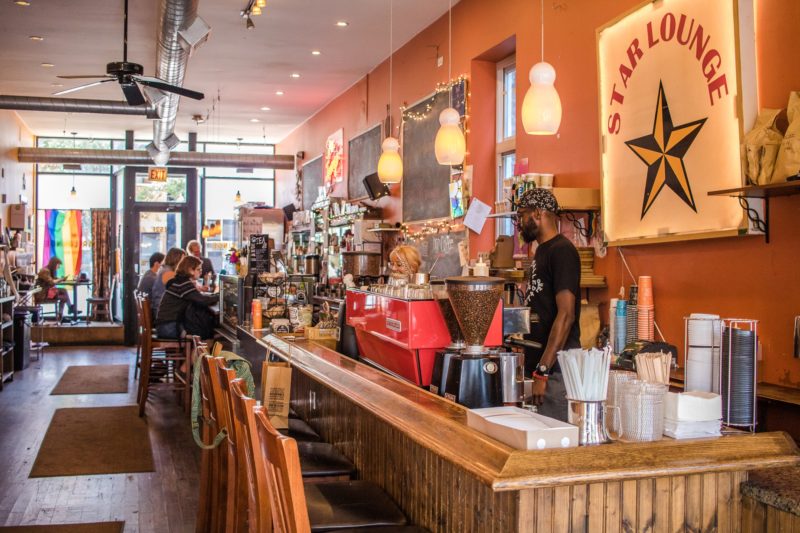 Komoda: Find the perfect gift for someone else or even for yourself at this renovated hardware store, filled with an eclectic mix of cards and curios.
Tommy's Guitars: Put down the air guitar and pick up the real thing at Tommy's. Whether you're a metalhead or a folkie, you can find the perfect new or used axe to truly become a guitar hero.
Smith Park businesses and residents are both well-served by established organizations representing their interests. For businesses, the West Town Chamber of Commerce offers services and champions their interests. Residents are served by the Smith Park Neighborhood Alliance, championing both the park itself and the interests of Smith Park residents.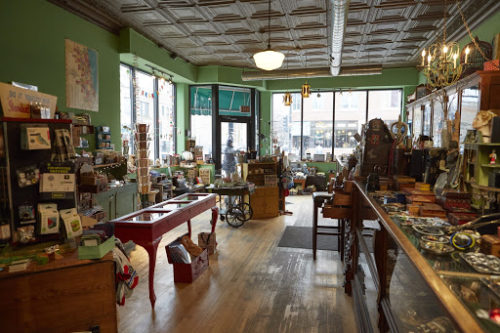 Smith Park Transportation
Smith Park may seem removed from most CTA train access, but it has a secret weapon for commuters heading to the Loop: a Metra stop at Grand and Western. The Western Stop serves both the Milwaukee District and North Central lines and is the last stop before Chicago Union Station, making for a very fast – about 10 minutes – commute to one of Chicago's main transit hubs.  For those venturing to areas outside of the Loop, the 66 Chicago bus links to the Blue, Red, and Brown El lines and runs to Navy Pier, while the 49 Western bus provides convenient north/south travel.  Drivers will also find easy access to most major expressways.
Smith Park brings many of the same benefits of Wicker Park and Ukrainian Village, but at a somewhat lower price point. It enjoys the same tree-lined streets and an almost suburban neighborhood feel, but still provides some great dining and shopping options, as well as easy access to the city. If you want to explore a new neighborhood, give Ask Nagel a call – we know Smith Park!
Greg Nagel
Greg Nagel is the Managing Broker/Owner of Ask Nagel Realty and a Top 1% producer of all Chicago brokers. He has been featured on two episodes of HGTV's number one show, House Hunters. Check out the 200+ five-star reviews of Greg's work from his clients on Zillow.
---