by: Greg Nagel
Ask Nagel Realty
[Featured photo:  Chicago Avenue runs through the heart of West Town]  
West Town Borders & Overview
"West Town" is a bit of an enigma, neighborhood-wise. It is approximately bordered by these streets:  Grand Avenue to the south, Augusta to the north, the Chicago River to the east, Western Avenue to the west. "West Town" is both a generic term to refer to a large swath of the west side, and a smaller neighborhood unto itself. If we think of it as the larger community area, it incorporates the following neighborhoods (listed in approximate order of value, highest first):
West Town Micro-Neighborhood Map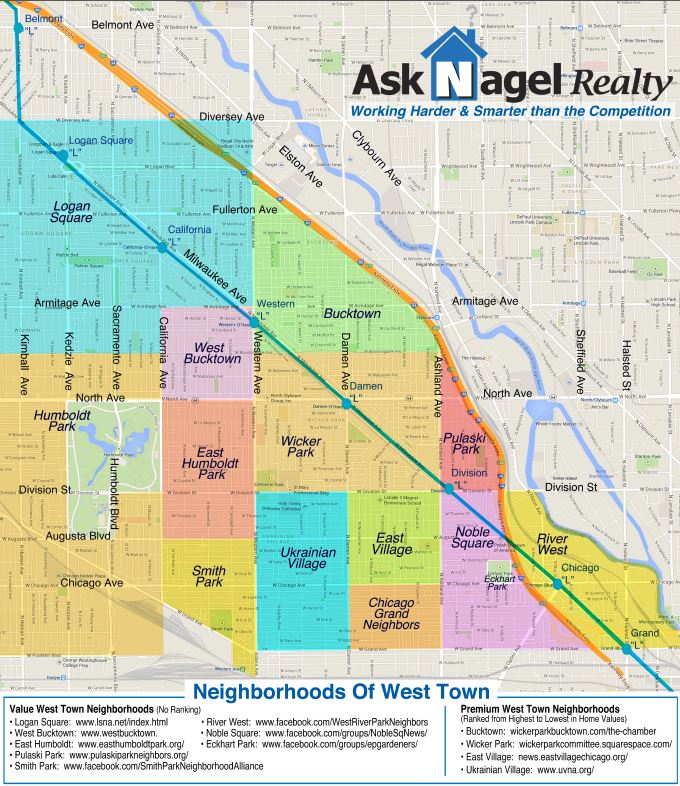 And that is by no means an exhaustive list. If you want to see the full picture of "West Town", the community area, I've put together a complete map here. As you'll see, it's a diverse area, and honestly not what most people think of when discussing "West Town," the neighborhood.
The smaller neighborhood of West Town is quite a bit easier to envision, although it still encompasses numerous other neighborhoods. Chicago Avenue forms the core of it, a bustling stretch of restaurants, bars, galleries, shops and services that epitomizes West Town's independent spirit. The boundaries are generally the Chicago River on the east, Western Ave on the west, Grand to the south and Augusta to the north. Again, while the whole area can be called "West Town," it incorporates Ukrainian Village, East Village, Eckhart Park and parts of River West, to name a few of the neighborhoods. Like many of the neighborhoods of Chicago, boundaries are a little unclear.
However you define it, West Town is exemplified by its diversity and eclectic nature. National chains are represented but rare, while locally owned stores and restaurants dominate the scene. The residents are among the most active in the city, working together to ensure preservation of everything that makes the neighborhood special.
True to its nature, West Town's housing stock is an eclectic mix of vintage and modern, ranging from modest worker's cottages to luxurious new-construction single-family homes. New and old often exist side-by-side. Scattered among these are some larger buildings and renovated lofts.
The most common configuration for multi-families is the traditional three-flat, often with a duplex down on the first floor, topped by two simplex units. While numerous vintage examples exist, this was also the primary new-construction condo configuration in the 90s and 2000s, when the neighborhood sadly lost many of its original buildings to development. Construction quality from this time varied wildly, making the advice of an experienced real estate agent even more important than it would be otherwise.
Mitchell Elementary School is known as a true up-and-comer and is now one of the best elementary schools in Chicago Public Schools.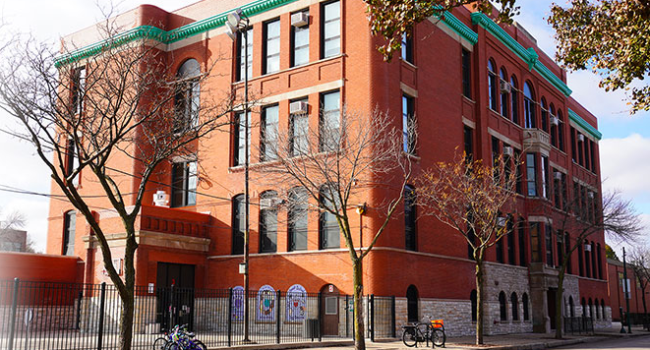 Chicago Avenue, recently named by Crain's Chicago Business as the best dining strip in the city, is home to most of the neighborhood's best dining.  Virtually everything is represented, from high-end prix fixe dining experiences to some of the best inexpensive ethnic restaurants around.  Some of my favorites include: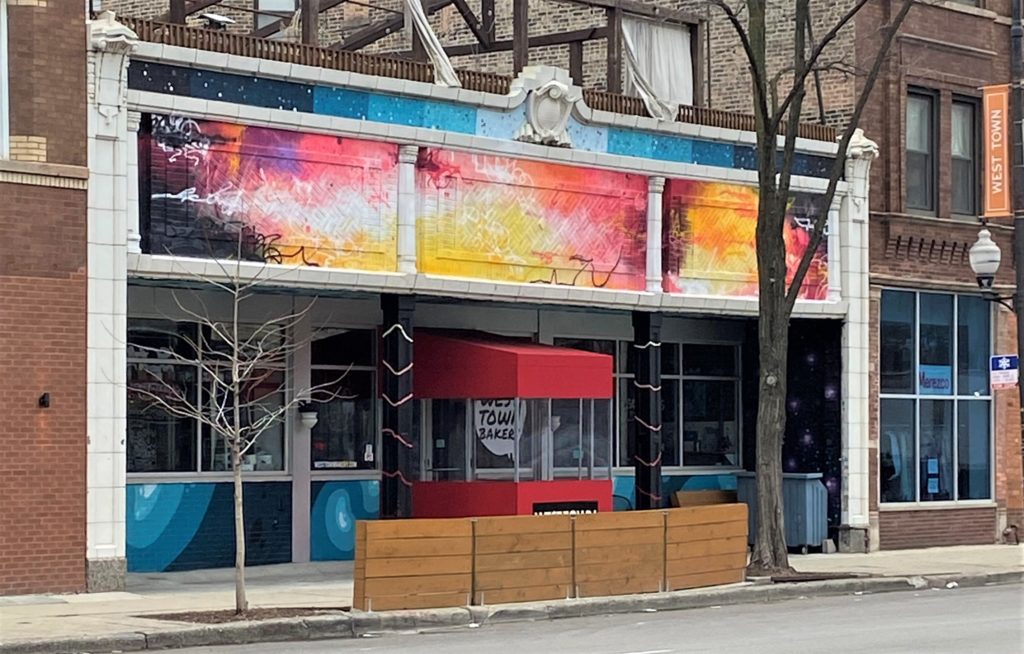 Flo:  As one of the older restaurants in the neighborhood, Flo has earned its longevity with amazing Southwest cuisine. Best known for brunch (but open all day), I'm a huge fan of their Chorizo Chilaquiles.  As a tip, order them "Christmas style" to experience both their red and green salsas!
Forbidden Root: Located in a beautifully restored old movie theater, Forbidden Root brews some of the most unique beers in Chicago. With a literal library of spices and herbs, Forbidden Root brings new life to your old IPA.  The food served pairs beautifully – their burger is one of the best in the city.
Jeong: One of the newest additions to the Chicago Avenue scene, Jeong brings highly acclaimed fine dining with Korean influences. As one of the more reasonable prix fixe meals, it's a relatively affordable way to celebrate a special occasion.
Tecalitlan: My personal favorite of the many inexpensive Mexican restaurants on Chicago Ave, Tecalitlan serves up great food, a fun atmosphere and tasty margaritas.
West Town Bakery: Creative baked goods and a hip, graffiti-filled atmosphere abound at this hopping brunch diner and bakery.  The French Toast cakeballs are a must-try!
Chicago Truborn: One of the first of a wave of galleries on Chicago Avenue, Chicago Truborn offers surprisingly affordable underground and street art.  Watch their Facebook page for their legendary art openings! Even their building is an art exhibit – the full-building mural by Dutch artist Eelco is worth the trip!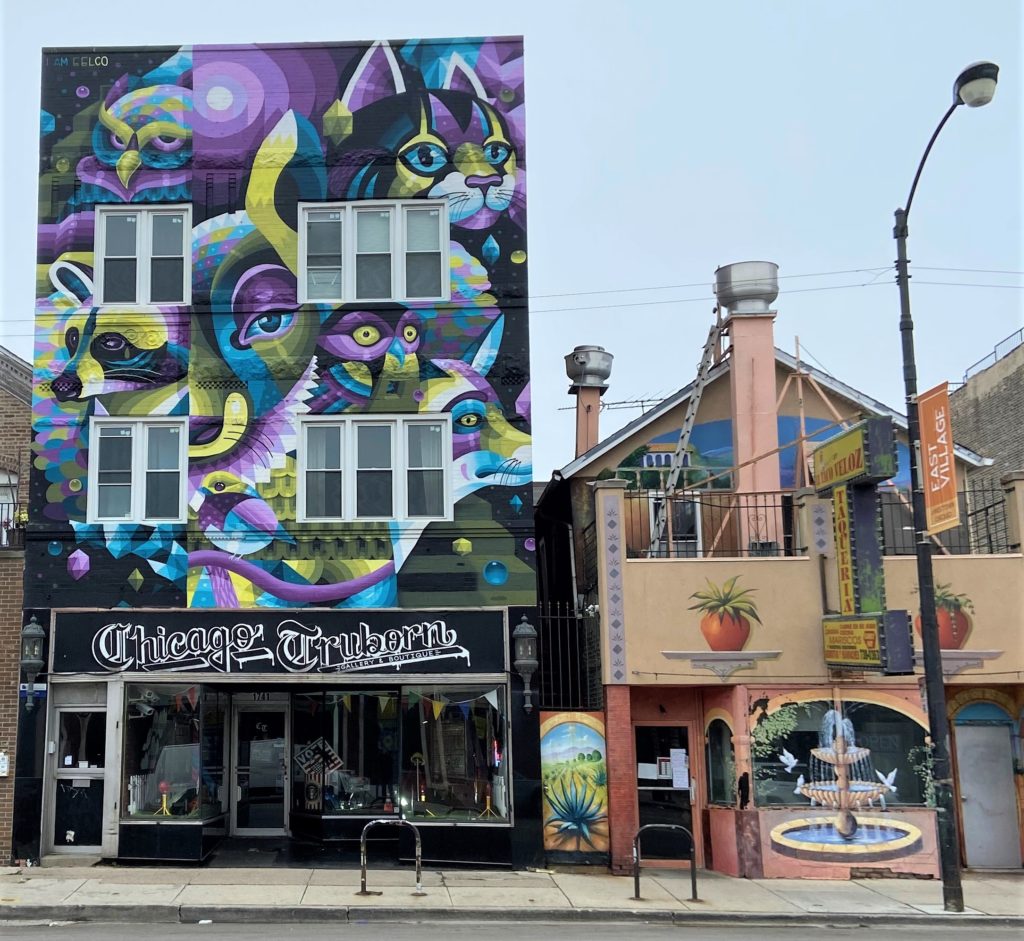 Alcala's: Visit this Chicago institution for all of your Western wear needs. From boots to jeans to hats, it's the perfect place to explore your urban cowboy fantasies. And the iconic sign is a must-see.
Paperish Mess: A great place to pick up cards, art or find the perfect gift for that hard-to-buy-for friend. Paperish Mess focuses on local artists and artisans.
Epic Spices: This hidden gem, concealed behind an original vintage menswear façade, can be tough to find, but the affordable spices and knowledgeable staff make it worth the effort.
Businesses and residents are both well-organized in West Town.  On the business side, the West Town Chamber of Commerce offers local businesses numerous resources and services.  They also organize several street festivals in the neighborhood, highlighting local and national musicians and artists.  Most prominently, West Fest takes over Chicago Avenue in mid-July. With two stages – one for an eclectic mix of musical artists and another for some of the best House DJs in the world – it's a fantastic showcase for West Town and a great time.
For residents, organizations include the East Village Association, Chicago Grand Neighbors Association, West Town Neighbors Association and Ukrainian Village Neighborhood Association all offer residents a chance to get to know each other and have an impact on the development in the neighborhood.  Working with local aldermen, these organizations work to preserve historic buildings, attract desirable new businesses and control development to ensure that West Town remains a great place to live.
West Town is fantastic for walkers and bikers and is well-served by public transportation. The Blue Line runs along Milwaukee Avenue with stops at Chicago and Grand, while the #66 bus runs down Chicago Ave (usually in a protected lane) for quick service to Michigan Avenue and Navy Pier and the #9 bus on Ashland connects numerous train lines. On the west side of the neighborhood, Metra offers quick service to the Loop from Grand and Western.
For more active types, biking is also an option, with Divvy Stations located throughout the neighborhood. West Town is also in the electric scooter program being tested in the city.
In short, the vibe of West Town is eclectic. This refers to everything from the diversity of the population, the restaurants, and, most importantly to me, the real estate. In addition to the numerous housing styles represented, the neighborhood can change completely from block-to-block. For example, the area north of Chicago and east of Ashland is charming, but the narrow streets and lack of greenery could be off-putting to some buyers, and is very different than the tree-lined one-way streets just blocks away. For both buyers and sellers, it's imperative to work with an agent who understands the implications these differences have on pricing. Agents less familiar with these intricacies may mis-price your home, resulting in extended market times and price drops, or, for buyers, may pay too much for properties with significant downsides. At Ask Nagel, we call ourselves "Your West Town Experts," and as residents and community members, we can back that up.
Greg Nagel
Greg Nagel is the Managing Broker/Owner of Ask Nagel Realty and a Top 1% producer of all Chicago brokers. He has been featured on two episodes of HGTV's number one show, House Hunters. Check out the 200+ five-star reviews of Greg's work from his clients on Zillow.
---