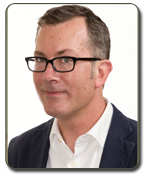 Cell: 312.375.0872 (Text Friendly)
E-Fax: 312.224.3188
Email: mvandam@asknagel.com
A Chicago resident for more than 25 years, Michael has owned and rented all over the city, from Lakeview to Old Irving Park, before settling in West Town, where he's lived for the past eight years. His knowledge of Chicago and its diverse, unique neighborhoods drive his passion for real estate and for finding the perfect living situation for his clients.
Michael's goal is to make the process of buying and selling real estate fun, easy and rewarding. Buyers and sellers don't need to see the hard work going on behind the scenes – they should be focused on dreaming of their perfect home, or moving on to the next phase of their lives. Of course, his integrity, attention to detail and tough negotiating skills ensure that his clients' financial interests are tenaciously protected as well.
Prior to embarking on his real estate career, Michael spent more than 20 years in marketing and public relations, working for some of the largest companies in the financial services and commercial real estate industries. The skills he developed over the course of his career make him a great negotiator and marketer, able to make your home stand out in a crowded market.
Michael is also very active in his community, serving on the board of the East Village Association, a local residents' group, and as a commissioner for the West Town Special Service Area (SSA) promoting responsible commercial development in the neighborhood.
Michael holds a B.A. in Economics from Brown University.